On 2nd February 2023, at the 10th edition of the 'Most Respected Entrepreneurs Awards Dinner' in Mumbai, Mr Surendrakumar Deviprasad Tibrewala was conferred with the 'Hurun Industry Achievement Award 2022'.
As Chairman and Managing Director of Fineotex Chemical Limited (FCL), Mr Tibrewala has guided his company to new heights of success while promoting a sustainable approach to manufacturing eco-friendly textile chemicals.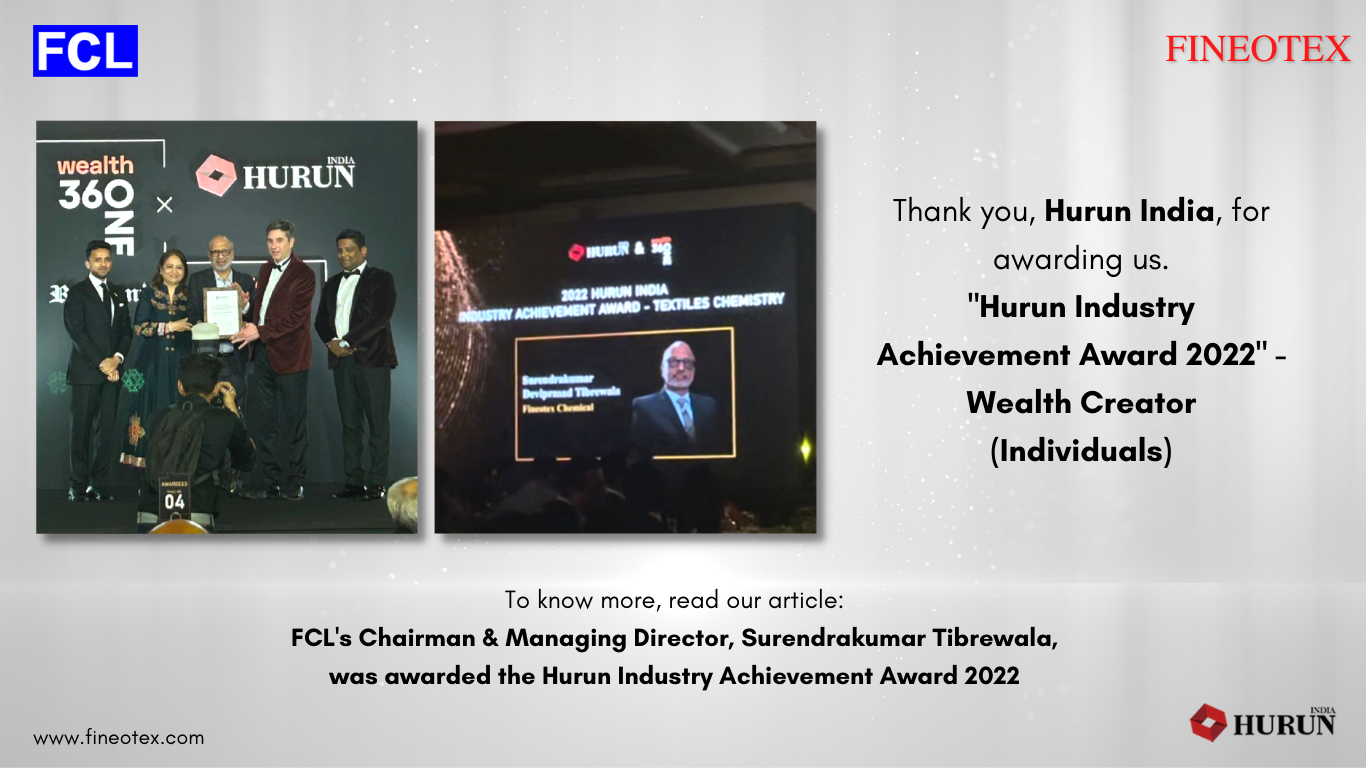 Hurun India – Advancing entrepreneurship through research
Hurun India was founded in 2012 under the direction of Anas Rahman Junaid and Rupert Hoogewerf, the creator of Hurun Global. The two agreed that the timing was perfect for discussing wealth creation in India.
Through its research, it acknowledges individuals that have played a significant role in advancing entrepreneurship. In this endeavour, Mr Tibrewala was recognised for his many contributions towards encouraging sustainability as a crucial aspect of business conduct and corporate responsibility.
The importance of sustainability as a guiding principle for business practises
FCL is committed to providing high-quality goods while adopting environmentally conscious practices in its manufacturing process. It is at the forefront of eco-friendly measures by continuously enhancing its products to reduce waste and carbon emissions.
FCL continually leverages breakthrough technologies to develop innovative textile chemicals. Its goal has always been to improve its products by standardising technology and techniques and ensuring they meet all industry standards.
Building a leading textile chemical enterprise
FCL was founded in 1979 by Surendra Tibrewala and has established itself as one of the most prominent global specialised textile chemical market players. It is a leading producer of approximately 450 speciality chemicals and enzymes for the textile and garment sectors and other industries such as water treatment, leather, construction, paint, agrochemicals, and adhesives.
It has also expanded its production capacity to increase supply. FCL has assured diversity and increased output, enhanced performance, and raised its economy of scale.
FCL manufactures a comprehensive range of products for pre-treatment, dyeing, printing, and finishing processes in key international textile hubs such as Brazil, Bangladesh, Germany, Indonesia, Malaysia, Singapore, Thailand, the United States, and Vietnam, with state-of-the-art manufacturing plants in Navi Mumbai (India) and Selangor (Malaysia) (Malaysia).
Domestic and worldwide demand is increasing in the textile chemical business. FCL has prioritised attaining sustainable expansion while fulfilling this spike in demand. It has a track record of consistent development over the past several years.
Maintaining profitability through responsible collective action
In summary, Surendra Tibrewala founded FCL to provide high-quality textile chemicals while fostering sustainability. The company has received various quality accreditations, allowing it to collaborate with major global players. FCL has expanded its influence in the specialty chemicals market by introducing new products, leveraging new technologies, and foraying into new segments due to these core collaborations.
FCL has maintained sustained growth and profitability across all sectors over the last fiscal years by keeping manufacturing costs low and sustaining growth as a fundamental component of its goal. However, its success can be attributed to the vision and leadership of Mr Surendra Tibrewala, who has served as the company's driving force since its inception.
References:
https://hurunindia.com/about-us/
https://fineotex.com/blog-evolution-of-fineotex-over-the-years/
https://fineotex.com/wp-content/uploads/2021/07/Fineotex-Investor-Presentation-February-2023.pdf