Asia Pacific HRM Congress Awards is a defining highlight of the Asia Pacific Human Resource Management Congress. Its objective is to emphasise outstanding leadership, entrepreneurship, and management across enterprises nationwide.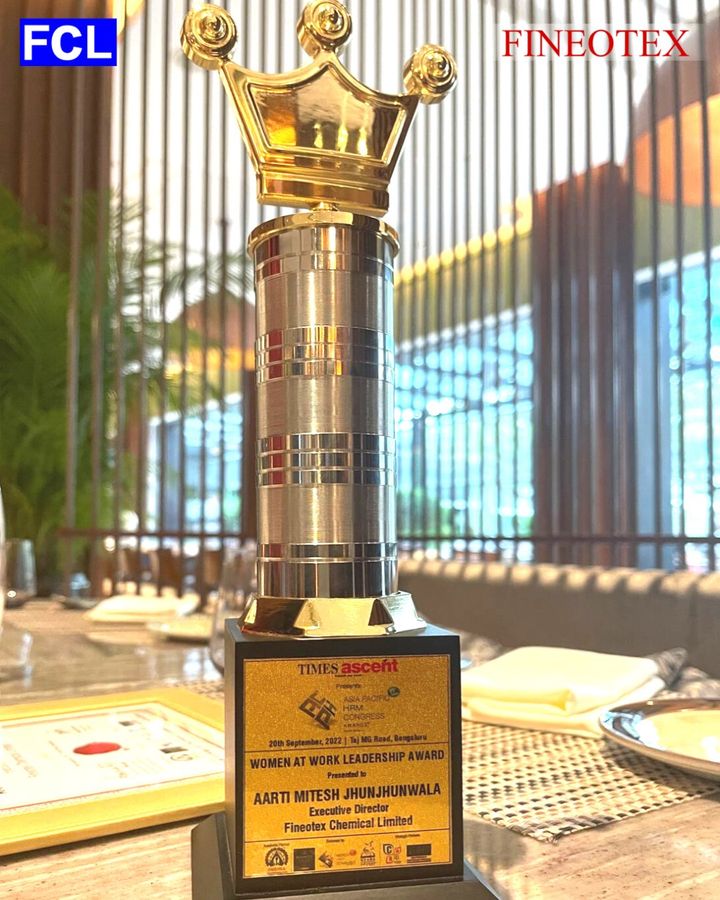 In this endeavour, our director Ms Aarti Jhunjhunwala was presented with the 'Women at Work Leadership Award' at the thirteenth annual Asia Pacific HRM Congress Awards, presented by Times Ascent. She has been instrumental in our efforts to include sustainability measures in our business procedures. This blog celebrates her keen role in making Fineotex a discrimination-free and thriving workplace.
Setting the example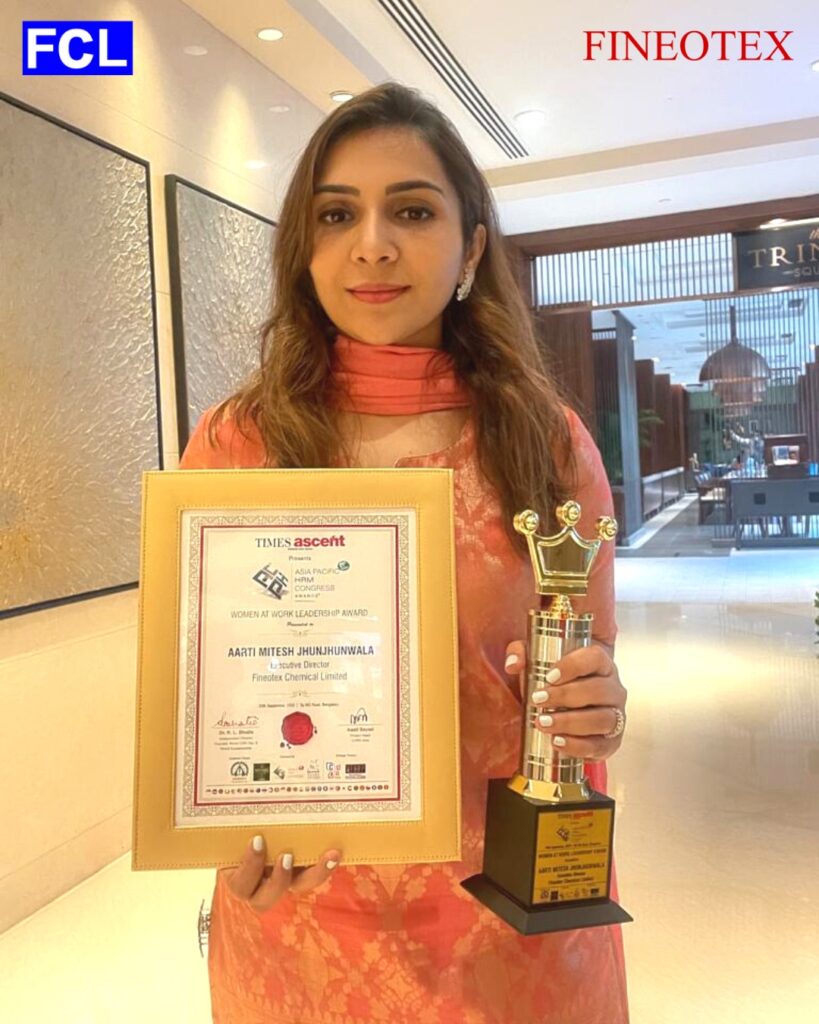 Aarti Jhunjhunwala, an entrepreneur of the second generation, is the current Executive Director of Fineotex Chemical Limited (FCL). She has more than fifteen years of speciality chemical industry expertise. Her achievements in business, women's empowerment, and sustainable practices have gained her praise and acclaim.
Aarti is recognised for supporting us in becoming a more responsible and environmentally-focused global manufacturer. She has made a strong effort to cultivate global strategic alliances for FCL, which has allowed the company to take advantage of new technology and apply greener practices.
FCL: Serving the broader goal of sustainability and fulfilment
As a manufacturer of products that enhance people's quality of life, FCL consistently employs innovative technologies. Our goal has always been to improve our goods by standardising our technology and methods and ensuring that they comply with all industry requirements.
People willing to work hard, put in long hours, and remain unwaveringly devoted to serving their organisation are the backbone of any successful organisation. Our success is defined by the devoted staff that serves with the highest diligence and commitment. Our first aim is to guarantee that our employees are content with their job and have ample room for advancement.
Belief in sustainability
We market ourselves as a company committed to providing high-quality items while also being environmentally conscious during manufacturing. This devotion is evident in the positioning of the organisation. We detect enticing industry features, such as a high degree of development, product customisation, and technological barriers that prohibit newcomers from joining the market. Due to Aarti's leadership, the development of our goods will be hastened by the strategic connections we have established worldwide.
We, FCL, are already at the forefront of efforts focused on sustainability. We have reduced waste and carbon emissions by continually enhancing our processes and procedures to embrace sustainable practices.
Aarti's vision and our team's excellent performance are essential to our success as a growing business. We are committed to creating eco-friendly textile speciality chemicals and an extensive array of pre-treatment, dying, printing, and finishing solutions.
In conclusion, accolades such as the 'Women at Work Leadership Award' go a long way in instilling a spirit of inclusion in the workplace. We are grateful to Asia Pacific HRM Congress Awards for this recognition, and we will continue to showcase excellence in our business practices.
References: